Great Saturday
January 30 2006
What a Great Saturday. We woke up around 11!!!!!!!!!!!!(since we have to be up everyday by 8 that's nice for us.) After a lot of doing nothing Jeff and I both wanted to go hiking up this trail that we had heard of. So off we went. We now had a mission….to get to the top so we could just get away from everything and be our selves. It was only around a 20min drive to get to the trail, so it wasn't that far away. But none the less we are still idiots where every we be.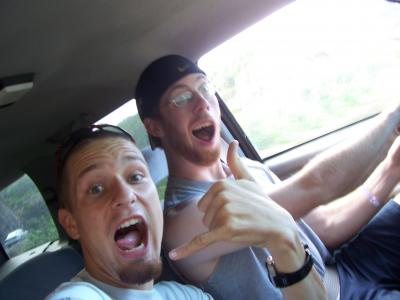 So once we got there we saw where we thought we were going…. you see where jeff is pointing, yeah that's only half way….we found this out after we got there :)
So we got started on our mission…yea it was a little up hilly but we are men or something like that….
And let me just say wow…. So amazing….just looking around was breath taking.
But we would not be stop so we push on….
Only stopping to take random pictures….
And then finally after around a two hour hike we made it to the top. And we could finally be our selves and just kick back…….
ok….so maybe this is more like it…..
dwuaaaaaa.......so after being complete idiots once again, we looked around to see Gods beauty being unveiled to us.
Dang!!! Our God made all of this. My God put this in place….It was so amazing seeing his arte work. It was very nice to be that high up away from everything. Only hearing Gods voice…..yeah preatty cool
And if you will notices on the last picture we were up in the clouds…..yeah….it was great.
Hope you enjoyed our Saturday b/c we sure did!!!! Be on the look out for our Saturday night coming up next, yeah our first BEACH BONFIRE!!!!!!!!!!!!!