Heather
Send a Message
Web Presence
Email
Last Active:
January 23, 2007
Relationship Status
Highschool
College
Interests
YOU!, God, flips flops, frapuccinos from Starbucks, random text messages, softball, basketball, football and really any action sport..joe...::blushes::
Bands/Artists
country, rock, and dance
Movies
A walk to remember, Bloodwork, The Notebook, Panic Room, anything scary or girly
Books
Other Website
July 22, 2006
wow..been a while since i have written in here..
Gosh..a lot has happened..first off
Birthday in 6 days...
ehh, everything is messed up right now, and i don't want to go into detail about on here..if you really really really must know about it..call me or something.
<3.
February 19, 2006
A lot of things have changed since the new year...im not sure about a lot of them however...i do enjoy getting to go out with friends more often. This morning my mom was talking to me while on the way to church, and she was like "Now, you're almost 17, and i've been letting you do anything you've wanted, as long as it's not illegal, and i really believe you have learned a whole lot since this time last year"..
Basically, what i think she is trying to say that i've grown up a whole lot, and if you really know me, and see me on a regular basis..i think you might agree...I know what is right and wrong, i know what is expected of me, i've become finacially stable, grown in faith, and in wisdom, and a little soft spoken...i've also realized that im a perfectionist..LIKE MAJOR!..everything has to be neat and straight, and im also really sensitive..What can i say..Im a girl!...I cry over stupid shit.
umm..Change is really happening in me..and i can see that..a lot!
February 04, 2006
so..i have a sprained ankle...with a slight fracture
ok, why would i be the one to get hurt at Warrior Hysteria?!?..me..the only one to like ever get hurt!..
ahh anyways..
The Juniors beat the Seniors in the pep-rally today..and if you go to Riverdale, you know that is a very big thing, because the Seniors always win the last pep-rally of the year....but NOT THIS YEAR! '07 Baby!
you say, it's because of my age girl, but age ain't nothin' but a number<3
Here lie the puddles of my tribulations....
2 remarks
Quick Remark:
January 29, 2006
interesting...very interesting...things are confusing for me...very confusing..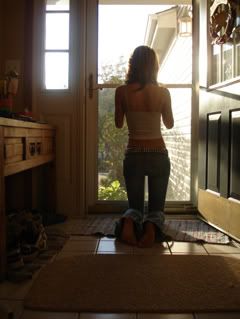 & i long for perfection in this malevolent conformation..
i may be a perfectionist, but that does not mean that im perfect.
IM GOIN TO FREAKIN STATE!!!...
but i have a bad grade in Algebra, but im in Mu Alpha Theta..wtf?..
and...............
PROM = APRIL 28th....Mid-night in Paris..going to be fun!!!! i got a boy, he's 19..very hot!
out.
and i sit here, wondering what will i do next?..what's my divine destiny?
and...my little sister is fuckin awesome!
edit///
everyone please pray for Mrs. Askew(John Rich's sister..you know, from Big & Rich), she is a marketing teacher at Riverdale, she is going through a divorce as of Monday, and she found out yesterday she lost the baby she was carrying...so everyone keep her thoughts in your prayers..im sure she would really appreciate it..thanks.
my friends
see all 50 friends
my pix
see all 14 pix
advert