Heather
Send a Message
Web Presence
Email
Last Active:
January 23, 2007
Relationship Status
Highschool
College
Interests
YOU!, God, flips flops, frapuccinos from Starbucks, random text messages, softball, basketball, football and really any action sport..joe...::blushes::
Bands/Artists
country, rock, and dance
Movies
A walk to remember, Bloodwork, The Notebook, Panic Room, anything scary or girly
Books
Other Website
January 29, 2006
interesting...very interesting...things are confusing for me...very confusing..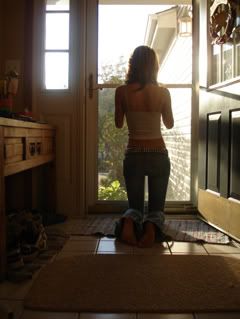 & i long for perfection in this malevolent conformation..
i may be a perfectionist, but that does not mean that im perfect.
IM GOIN TO FREAKIN STATE!!!...
but i have a bad grade in Algebra, but im in Mu Alpha Theta..wtf?..
and...............
PROM = APRIL 28th....Mid-night in Paris..going to be fun!!!! i got a boy, he's 19..very hot!
out.
and i sit here, wondering what will i do next?..what's my divine destiny?
and...my little sister is fuckin awesome!
edit///
everyone please pray for Mrs. Askew(John Rich's sister..you know, from Big & Rich), she is a marketing teacher at Riverdale, she is going through a divorce as of Monday, and she found out yesterday she lost the baby she was carrying...so everyone keep her thoughts in your prayers..im sure she would really appreciate it..thanks.
1 remark
February 04, 2006
Michael Thoe
said
You would find it funny that I overslept. LoL Oh, and why is your sister freakin' awesome?
my friends
see all 50 friends
my pix
see all 14 pix
advert