Relationship Status
In A Relationship
My Eventful Thursday
October 13 2006
As some of you know, I have not been feeling good since I woke up on Sunday morning. My throat has been extremely sore and I've had trouble breathing and swallowing. I finally took Thursday and went to the student health clinic on campus. They didn't know what was wrong with me there so they sent me to the Emergency Room at Erlanger Hospital to see an ENT specialist. I saw my room mates when I was coming back from the clinic to go to the hospital and I burst into tears as I told them what was wrong and they brought me to the hospital. We waited for about 30 minutes to an hour because I told them I was having trouble breathing. Then, my room mates left once I got sent back and it was ok because I knew my dad would be there soon. Shortly after waiting on an exam room, I was stuck 4 times because they couldn't find a vein on me because I was so dehydrated. They decided to start an IV and take blood and then they admitted me overnight to keep on eye on my fever. They woke me up every 2 hours last night to check vitals or take blood or change my IV bags. About 6 tonight, I FINALLY got to see an ENT specialist and he prescribed about 4 different types of medication. He said my activites are very limited right now and I'm not allowed to do anything outside for an extended period of time. I am feeling better now. I'm just a little tired and sore. I can kind of eat normal foods again and both my parents and Brandon are here keeping a close watch on me. The doctor wants a follow-up in 10 days to make sure my tonsils have gone down and if this happens again they will probably have to do surgery. Anyways, I would like to thank those of you who knew and have been calling to check up on me. Sorry for those who weren't informed, this was a surprise to me too. Just keep me in your thoughts and prayers and pray that I keep fluids in me and that I eat and take all my meds at the right time. I love you!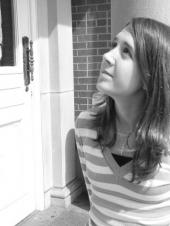 October 13 2006
Yeah, Amy told me about this! I hope you start feeling your old self again soon!
October 14 2006
Becky!!! You didn't tell me it was that bad! I would have drive down there myself. Hope you are doing much better now. I love you bunches!!!