Relationship Status
Single
Best friends.....
February 24 2006
So life has been very busy this past week..and I don't see it easying up any... ADPi practices for all-sing a lot and i am part of that so I have been there for a few nights... Then I had 2 test this week, I think I did pretty good on them.. I have 2 test next week...and all sing practice... It is crazy.....
So hopefully here are my plans for this weekend..... I am going to Jackson today to go dress shopping.... I need a dress for this up coming weekend and I don't have one at all..LOL!!! Ohh well... Then I am going to my grandparents till Sunday morning. And then no matter what happens this weekend..I am going to Jackson on Sunday to eat lunch with Ashley and catch up on things..I am soooooo excited.... I absolutely cannot wait!!!!
But yeah..So i am about to go and take a nap..I am done with classes for the rest of the day so that is pretty awesome!!!!
Bye!!!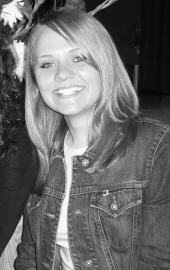 February 26 2006
AHHH I'm sooo excited about tomorrow!!! yippee!! finally we get to just hang out!! :o)