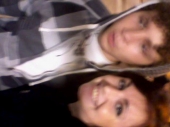 Relationship Status
Single
Obsessed :)
September 16 2009
It's still morning, but it feels like this day has dragged on forever. Maybe it's because I still count down to when my birthday is, and every day in September feels like the closer it gets to my birthday, the slower the time moves.
I'll be sixteen.
And I don't feel like celebrating, but I am this Saturday and Sunday.
Be there, or be square :)
I'll be lookin reaaaaal fly.