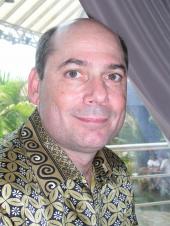 Relationship Status
Married
Thanks for The Prayers - Please Read
June 28 2007
For those of you who know about the prayer request - THANK YOU SO MUCH. For everybody else, read on.
Decy and I often talk about health and security issues - its just part of our lifestyle living overseas. One health element we have talked about numerous times is the "3 day fever rule", which is .... if somebody has a fever for 3 days they promptly go to the doctor. This is something that is taught by the medical group in our company. This rule has been important and has proven effective over the last couple weeks as our staff have suffered through three cases of Dengue Fever.
Yesterday, Decy went to Ciputat (suburb of Jakarta, Indonesia) to visit her family. While there, her mother mentioned that Decy's sister Debbie was ill and had been running a fever for 3 days. The family thought everything would be ok. Decy went over to see Debbie ... she was running fever ... her stomach was bloated ... her stomach was extremely sensitive to touch. Decy told the family (and Debbie's husband) that Debbie needed immediate care. There was discussion on that and finally Decy's logic won out - and Decy promptly took Debbie to a GOOD hospital.
By 3pm Debbie was at the hospital undergoing tests. First, they found Typhoid. Second, they found complications in the intestinal area but weren't sure. About that time, I put Debbie on the prayer chain in the US through my family in Florida. More tests were run and by about 7pm it was determined that emergency surgery was needed. Surgery began at 9pm.
Decy made it home around mid-night. Surgery was a success - and the prognosis is good for recovery. As for what they found ... I don't know all the details (language translation issues) but the appendix was about to burst ... and something else had already ruptured as fecal material was in the intestinal cavity and it was only a matter of time before infection set it.
Debbie was truly in a life threatening situation. Decy's quick response and the prayers saved her life - I am certain of that.
Selah