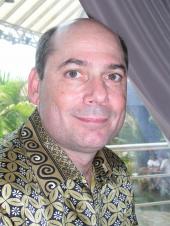 Relationship Status
Married
The WB Effect ....
April 09 2007
Last night (Monday night) before turning out the lights, I turn on CNBC to see how some of my favorite stocks are doing. What do I see? Union Pacific Railroad is up 7-8% TODAY? Watching closely, I also notice that Burlington Northern Railroad is up similarly. What's up? After about 30 minutes I learn that Warren Buffet has taken a 10.9% in BNR and positions in 2 other major rails. Sooooo ... everybody jumps on the band wagon. Markets calmed a bit by the end of the day after some profit taking ... don't know what the future holds ... but I am happy with my 1 day paper gain of 4%. Besides, Union Pacific is very close to my target sales price .... it pays to be contrarian ....
About the driver interviews ... they were "no shows" yesterday. Didn't get a chance to find out why from Decy ... it was a very hectic day.
As for work ... no story there ... just a bunch of meetings that will clearly demonstrate that some folks don't know what they are doing ... as the saying goes ... it is better to not say anything and for people to think you are a fool, than it is to open it and dispell all doubt.
Keep Chely in prayers ... she has an ACT exam on Saturday. She's nervous ....
Thasya also has her fashion show practice on Saturday (it was supposed to be on Sunday)
... its going to be a very hectic Saturday doing all this and getting ready for the opera. Plus, there are a couple of events at the school Friday night - I think we will attend only one of them.
Well - I better get to work on some stuff .... its ALREADY 440am ...
ciao ciao