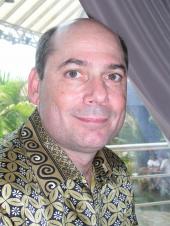 Relationship Status
Married
Simple Pleasures For Simple Minds
March 28 2007
Chely was burning some of our favorite latin/angolan music to CDs to give to some DJs at our favorite clubs here in Jakarta. We ran into a bit of a problem as some of the songs were from her iPod and used their proprietary format and was considered "unreadable" .... those podantic iPod folks !!! .... I tried and tried to decode the files with the software that I had ... but to no available. So I got a bright idea about asking Josh, Chris, and Paul which decoder I should use. Just I got ready to type the email I paused .....
Well even a blind dog finds a bone once in a while ... I did a quick internet search ... carefully read some descriptions then downloaded a test version of ImTOO .... man that is some slick decoder ... no more than a couple of clicks and presto-mundo ...three files converted from m4a .... to mp3 .... YAHOOO !!!!!!
... bye ... gotta go see my honey ....