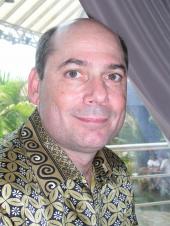 Relationship Status
Married
Wacky Wednesday
March 27 2007
Ah the joys of spring break ... whatever that means in Indonesia. I guess the girls are more or less staying busy so far. Good news is that tomorrow (Thurs) we head over to hotel Le Meridian and check in for a couple of days (free vouchers !!!). There is a great lebanese restaurant there ... which we will take the girls to (they've never been there before). Not sure what else the we have planned ... but no doubt we will stay busy somehow.
Speaking of staying busy, this has been a horrible, emotional, long week at the office. After 2 days, I feel beat up ... rode hard / left wet ... and drained. Thankfully I am taking Thursday and Friday off ... to enjoy time with Decy and the girls - that will help.
Received a call from Beni the manager at Club CJs. Our tickets/invitation to the Opera are ready. We will collect them today or Friday. Unfortunately, 2 folks cancelled out on us so for our table of 10 we only have 8 people so far. We are trying to flog the other 2 tickets - if we can't, we are out of pocket $300 .... uuuggghhh.
Here's one for you ... about 2 weeks ago, one of Decy's brothers (Dewa) was riding his motorcycle at night (note: in that part of the city there isn't much street lighting and streets are small). Anyway, in the middle of the road squats an old homeless lady. Dewa doesn't see her and she doesn't move. He hits her with the motorcycle. Police come - seize Dewa's motorcycle and license. Dewa takes the old lady to the hospital and pays for her medical care - minor injuries. Police give Dewa back his motorcycle but not his license - they tell him that he must care for the old lady in his home until she is able to take care of herself again (rhetorical: wonder when the last time she was able to take care of herself?). So, for the last 2 weeks (more or less) Dewa has been caring for the homeless lady - clearly she has no incentive to get better or to leave.
Finally, in desperation, Decy's mother Doortje (and yes, the family is full of "Ds" .... Doortje, Decy, Dolly, Debbie, Dewa, Dona, Dino, etc) takes the bull by the horns and takes the old lady to an old folks home. The OFH won't accept the lady unless she gets medical clearance. They take the old lady to the hospital, they check her out - clearance received. Then the OFH doesn't want to accept the lady because she has no money (duh !!). Finally after careful and persuasive talking Doortje convinces the OFH that they need to take the old lady because the old lady cannot possibly continue staying with Dewa ......... because ............ Dewa is a Christian and it would be impossible for the old lady (a muslim) to worship and live in that house. NEXT STEP - Get Dewa's license back.
Not much else and no new developments are going on. Need to close.
Ciao ciao.