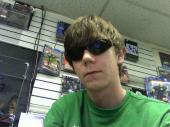 Relationship Status
Single
So now that I've lost it all......time to start anew
February 22 2006
I have been stuck here before. At a moment where I don't know what to do or who to turn to. We were discussing suicide in psychology yesterday and I just wanted to get up and walk out of the class. No one in there knows what it's like to be at that low of a point where death is tha only possible solution. They have no idea what they are talking about.
I'm set on becoming a better person. I want to change my faults. I want to become a person that everyone loves to be around. That everyone loves. I'm tired of hate. I'm tired of loneliness. I want love. Just love.
I will change.....
I won't be on here or any other blog site anymore. This shit is so childish. Took me awhile to realize it but now I see.

The Sacrament

I hear you breathe so far from here
I feel your touch so close and real
And I know
My church is not of silver and gold,
Its glory lies beyond judgement of souls
The commandments are of consolation and warmth

You know our sacred dream won't fail
The sanctury tender and so frail
The sacrament of love
The sacrament of warmth is true
The sacrament is you

I hear you weep so far from here
I taste your tears like you're next to me
And I know
My weak prayers are not enough to heal
The ancient wounds so deep and so dear
The revelation is of hatred and fear

You know our sacred dream won't fail
The sanctury tender and so frail
The sacrament of love
The sacrament of warmth is true
The sacrament is you
The sacrament is you
The sacrament is you
The sacrament is you
The sacrament is you

You know our sacred dream won't fail
The sanctury tender and so frail
The sacrament of love
The sacrament of warmth is true
The sacrament is you

You know our sacred dream won't fail
The sanctury tender and so frail
The sacrament of love
The sacrament of warmth is true
The sacrament is you