Relationship Status
Single
prayer and halleluahs!
May 03 2006
last 2 finals are tomorrow. pray to God that i get a passing grade in Bio since now i dont need it and would HATE to have to take it again for no reason cept to better my grade. but yes that and history but history should be easy think i have an A or B+ in there and hey jus got my Eng grade for 1020 and who made an A? thatd be me! good thing thats my major now huh... ah the irony but anyway i love you all then im off to FL til the 9th. i know you will all go crazy witout me but u shall live. now im off to bed so i can get up and be done with my freshman year in college. man thats a scary statement. i will no longer be a freshman and i am only 17 years of age as of this moment. *shakes head, snaps out of it* life presses onward so yeah seems i have to call the theatre department to get them to put on my records that im a theatre minor. but anyway life is great other than i twisted my ankle like no other today and i have worked over 80 hours in the last 2 weeks along with my 17 hours of school and studyin for my finals if u can call what i did studying lol. but oh well tis nearly over now and i could care less. but i hope it went well for the rest of you and i will c ya this summer cuz i will have time now yay!! ttyl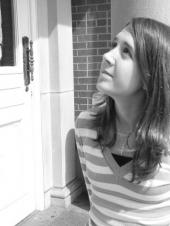 May 04 2006
Since you're gone until the 9th, I'm going to have you start working on the video on the 10th. Mwhahaha. Ok, you don't have to, but I would like to do some footage with you next week if possible. Let me know and have fun! Good luck with bio!