Relationship Status
Single
Let the Journey Begin
September 17 2005
Lay Me Down - Ryan Horne

the pieces of my puzzle
all scattered and so torn
from the time spent laying beaten
to the edges which are worn
placed into there very moment
God's timing they are laid
with every breath of air
a piece is laid to sleep
with every footstep taken
my soul is His to keep
and so I bow my head to pray
put to rest my every day and sing

CHORUS
lay me down my Father
lay me down here to sleep
lay me down forever
cause forever I'm Yours, Yours to keep

I watch my puzzle forming
with rest behind my eyes
and I see the God of wonders
working in my life
and as my future comes and goes
God the only one who knows
what comes
so I lie here in His comfort
and watch the pieces being placed
by the care of my maker
His Amazing Grace
and by His tender touch He holds
the pieces which He knows
will come next

BRIDGE
so I am alive
I am well
I am here
for you

I have had this song running through my head for a few days, so i thought i would share it with the Phusebox world. These lyrics are such a comforting thought in my current life situation. God has taught me so much over the past few weeks about trusting His timing and His plan. And now as I undergo many many medical tests to attempt to identify the cause of my consistent illness, I have such a peace about the whole situation. There are a number of things that the doctors may find, but I know my Sovereign Creator has knit me together exactly as He planned, and He will walk with me every step of the way on this journey. However, prayers would be appreciated. =)
I love you all!
September 18 2005
you are so strong and amazing! you are the best sister i could ever have, i love you!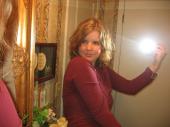 September 19 2005
hey...u r in my prayers...i love u so much! you have no idea how much u mean to me! i love u so much and i am praying for u!