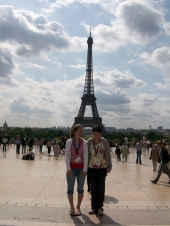 Relationship Status
Single
How Was Prom?
May 20 2007
How was prom, guys? I wish I could have gone. Who all was there? I know Carmen, Keri, Milby, Sydnee, and Jessica all went. Did you guys have a lot of fun? I had an OK amount of fun at City Fest. TobyMac and LeAnne Rimes sang last night, and Barlowgirl and Craig Morgan sang today. I was amazed I actually didn't get sunburned being outside all day for two days. But I did hurt my foot because this guy, Chase, in my youth group was stepping on everyone's feet. He made me trip and slide down the hill. He's really annoying, but he's pretty cute. (Although he's in sixth grade.)
I can not wait to open the pool and go to school tomorrow. We had to help take off the tarp off the pool today. (Which I hate.) We cooked out at my aunt's today after church. That was fun hanging out with the fam. I just realized today that I won't be here this year for 4th of July. I'll be in Australia. I hope we get to some kind of fireworks thing. Oh well, we'll see...
May 22 2007
hate to break it to ya......but the forth of July is just another day in Australia........