Relationship Status
Single
Work..Work..
August 24 2005
So I think all I do now is work lol not really but it sure seems like it. Im fixing to head out to the work place in a few minutes but I thought why not write something, since I havent in ages... oh well not like anyone reads it. So pretty sure Ive been going like crazy this past week or so. But Ive had tons of fun!! Hopefully going shopping on Saturday with my mom at Cool Springs yay! I love to shop hehe. Do you know what else is crazy... we start school on monday blah!! I dont want to start I think I might drop out haha.. my parents would kill me. Oh well this was very random post but Im out gotta go to work!

Im slowly working on getting those wedding pics on here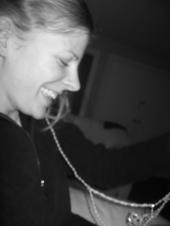 August 24 2005
hey.....call me tonight when you get off work!!! i feel like i work all tha time to...o wait i do! umm tmorrow night AO and then ice cream! call me! luv ya!!