Relationship Status
Single
So I've been thinking
December 07 2005
So I have truly been thinking about alot of things that are happening in my life lately. Not all bad stuff but just random things that seem to be happening like all around me. It's crazy to think that this semester is over, I mean I'm excited because I really don't like school but then at the same time it is just another change that I have to go through. If you don't already know I'm not to big on change, I know most of the people who know me best know how hard change is for me I really take it hard. I know I know it really isn't a HUGE change but it still is a big enough change for me to get kindof nervous about. OK sorry enough bout rambling about my nervouness haha I know I'm a nerd.
So on to other things going on in my life! Ahh I am super excited because my cousin is going to have a baby boy, I think she is due at the end of December but I'm not quite sure of that but it is super exciting this is the second little kid in our family! I am soo ready for my brother and his wife to start having kids, I can't wait! Well Christmas is coming up and I am stressing out about making sure I have everyones gifts ready and all I feel every day a new person gets added to the list of people I have to buy for, it is all very stressful to try and think for that perfect gift for them!
Hmm and on to more important things, God is really laying on my heart alot of very heavy and deep things. I haven't really ever confided much of any of this stuff to people, I mean I have but only to a few people, but it seems to be getting harder to deal with on some days. I am trying to give it to the Lord to deal with because I know He can handle everything! Yet I think the Devil is having his way with me on some days when I am down. But it is in God's hands now and I just hope that it will get easier with time, I guess I just have to forgive myself for it. So I never really do this on here it feels kindof weird but if yall could just pray for me in all this stuff I know I haven't really gone into detail on here but if yall could just give me a little prayer in yalls prayers today Thanks!
This is the last thing I promise lol I have written a whole lot today I think I am just tired and wanting to talk to someone and no one is really around but the thoughts in my head and it always helps me to write things down...ok sorry back to the point. SARAH BRANSCOM READ THIS: Thank you soooo much for praying with me wednesday night! It meant sooo much to me and truly helped me sooo much! You are such a blessing in my life and I know God has you in my life for a reason and you are such an encouragment to me and I love you girl!!!
OK I'm done thanks for reading if you read all of this, but I'm off to nap before work! Much Love
I will sing of your mercy that lead me through valleys of sorrow to rivers of joy...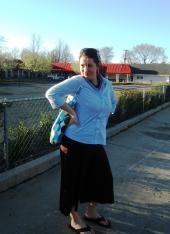 December 07 2005
you are such an amazing girl jamie smith. don't let satan bring you down with the lies that he tells you. they are just that...LIES! what i do is i just stop everything and lift up a prayer and God totally takes it away. but you aren't the only one who hits their rough patches in life. just keep on going and all God asks is that you rely on Him for anything and everything. YOU ARE CHERISHED BY THE LORD. love you. talk to you later.