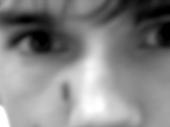 Relationship Status
Single
"Bob Barker is behind Door Number 2"
November 08 2006
A few more words, I'm guaranteed to bust..
Would you please just say, What I want to hear??
Please calm your voice, know I speak sincere,
Will you check your pulse, know that I'm no threat...
In the back of your mind, I'm your safest bet
The blue collar prince, that you dream for most
But lets set these engines to cruise or coast..
accept your fate, like it's all you have to believe..
With an open palm, I'll stretch out to you
But what comes next is up to you..
will you go with me tonight?
cause it seems so good and it feels so right
please open your eyes to this flirting cause
this acting game is worth much applause..
i say all the words you long to hear..
but it's so not true, and still dangling on your ears..
just a few more minutes, please buy this lie
i can sail you rivers, and prove your dreams
in your deepest hopes and most violent screams
i am the the one you hate
and the one you long to love...