Untitled
July 26 2005
a year ago, life was normal. if you dont know what im talking about, dont worry about it. if you do im sure the melody still lingers on.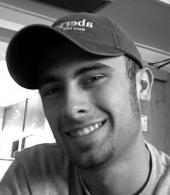 July 26 2005
"I hate people with slow cars and fast attitudes" Something he agreed on with me 100%. Seems like yesterday we were sitting in the Shoney's parking lot listening to stories about golfing..
July 26 2005
I don't think anyone could have said it better. I'm not surprised it came from you. Things will never be the same and life has certainly changed. I miss guitars and campfires, movies and roadtrips. I still sing "Be Like That" to myself sometimes.
July 26 2005
Hey, I dont understand at all the hurt or sadness you could be feeling bc I never knew him but if you ever need me just give me a call! You're in my thoughts! I hope things get better!