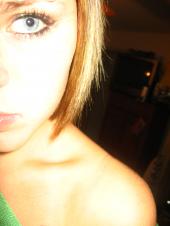 Relationship Status
In A Relationship
I'd cross the desert for you.
June 03 2006
mmm childhood.
I am a troubled teen.
The past few weeks have been a blur.
It's like getting off a treadmill;;
You feel like everything is rushing forward
&& like you're gonna fall.
I've been out of it.
Hanging out with friends has been fun though.
It feels good to be cared about.
I've been blessed to have atleast 4 cheerup days.=)
&& for as much as I dislike females,
the ladies i've hung out with make me smile.
So the other night,
I was at the Underoath concert,
and for those of you who don't know,
it's a 'Rock Band'
&& at this 'rock concert' there was moshing.
&& stuff like that.
Well in the midst of all this
'moshing'
I stopped and zoned out.
There were a million things happening
around me but i just stood there
&& forgot where I was for atleast 2minutes.
In the solitary confinement of myself.
It's crazy.
well a week from tomorrow is
the big One Six.
Joy.