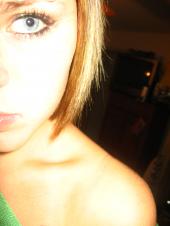 Relationship Status
In A Relationship
One step at a time, one hope then another, who knows where this road may go? ♥
February 07 2006
I dyed my hair.
Nothing seems to be happening.
I become triple excited for WSS
I get to help with Make-up
I did that partly last year,
between dressing Brett in quick change,
and moving the stuff on stage...
but basically, i'm now a little more excited,
&& a little less bummed i didn't get stage manager.
Next weeke is Keith Urban week,
and also Travel week,
I'm going to Huntsville Tuesday
(Valentines)
and then Knoxville Friday-Sunday.
I'm sooooooo excited!!!
but yes..
that's about it,
today was lame,
but oh well,
it's school.
PEACE.
"Stay Gold"-Stevie Wonder