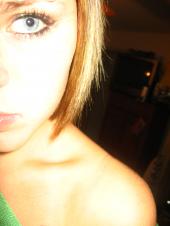 Relationship Status
In A Relationship
....I'm lovin it.♥
November 17 2005
You know how it feels,
When you just
can't
have a good day.
&& Everyday just seems ordinary?
I feel like that alot lately.
oi..
O well.
I have edited this,
it was utterly depressing.
I hung out with Reese today.
She made me smile.
then I ate chicken mcnuggets,
made me feel fat, but that's
what mickey'ds is for.
right?
So anyway,
I have this thing called a phone.
&& You can call it,
cause I have free nights and weekends.
haha. yeah i'm a loser.
I think i'm gonna quit school
and become a tight rope walker,
Or maybe a human cannonball.
that would be wicked.
[to the extreme]
aye me,
that's my favorite saying.
along with none-the-less.
look i'll use them in a sentance:
Aye me, life is crazy, none the less, it's amazing.
yeah that's how it is.
haha I have no life,
I have to sing a song for
Speech, my mom wants me to sing Time Warp,
I'm up for it,
but it's hard to really sing I think.
Hrm, any ideas of songs?
Tounges are gross.
I realized that today.
anyone up for never never land?