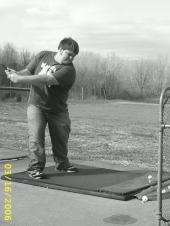 I wish my name was John...
February 10 2006
I used to think that I had some inclination as to what I was going to do with my life, but now, now that I actually have to start moving down that path I can't seem to settle on something. We're not here for very long, and I don't want to do something that I hate doing and be miserable for most of my life, but I also don't want to float around jumping from one thing to the other. I wish my name was John. If you'll look through out time, its always the Johns that seem to catch the breaks, make the deals, and have it figured out.
"...let the Bible Belt come and save my soul. Hold onto sixteen as long as you can, changes come around real soon to make us women and men..."