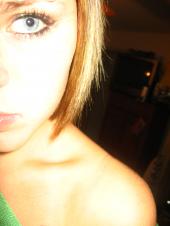 Relationship Status
In A Relationship
I can't forget the night I met you,that's all i'm dreaming of,now you call it madness, but I call it love♥
October 22 2005
Today was a day of memories.
Good, but upsetting none the less.
I can't stand the way reality hits in sometimes.
The way you hear a song and it kills you inside.
The thoughts of someone engulfs your mind.
Though all is good, your life is bland.
Without the one to hold your hand.
I hate the lonely feeling I have.
I need to get out.
have some fun.
You know the
teenager stuff.
Someone come pick me up
and we'll go to the mall or something.
I feel as if I don't have many "friends"
In Spanish she said that it's a
huge compliment to call someone an
Amigo
.
(which incase you didn't know, means friend)
and i relized, I have all these people I call friends,
but I never hang out with them,
I only see them on certain occasions
(school,birthdays,etc)
Well, anyhoo. I guess that's all that's goin on.
I think my sister has strep throat(ick)
so I think i'm gonna stay away from her,
I don't need anymore shots.
uhh..orthodontist monday,
I have to ask how much longer
i'll have these frikkin braces.
Probably like
2 more months
.
Well if you wanna hang out,
let me know, i should be
pretty much
free
for a while.
--Miss Sarah♥
I was in
love
with that french fry.
Devin ate it.
'Twas upsetting.