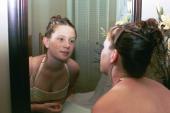 Relationship Status
Single
April 20 2006
guess that last entry's not completely true anymore is it? those of you who know me well know what i am sayin... this is all i got that i will share on here... luv ya'll!
January 21 2006
You …
Name…Brady
Age…14
Birthday…08/27/91
Eye Color…Blue
Hair Color…Brown
Height…5'4"
Favorite Saying…too many to type
Fears…heights (but only mildly)
Bad Habits…hmmmm



… School …
Where do you go to School…Riverdale High School
Do You Like it…sometimes
Whos Your Gym Teacher. . .Coach Burt
Whats your favorite Subject…English
Whats your least Favorite Subject…science
Whats your school Colors…red and gold
Whats your School Mascot…the warriors
Do you play any Sports at your School…nope, definately not



… Love Life …
Do You have a boyfriend/ girlfriend…yep
If so whats there name…Tyler
How Long… almost 3 months
Do you Love them… OH YEAH!
Have you ever been dumped…yeah



… Favorties …
ice cream…anything thats not minty or has anything disgusting in it
food…mexican and anything else i crave
holiday…Christmas, and not just cause the presents
actor…Patrick Swayze
actress… Alexis Bledel
season…summer!
color(s)…green and hot pink
sport…football
hobby(s)…singing and acting
friend(s)…a lot
song…i like pretty much all genres, so thats a hard one
instrument…my voice



… Friends …
best…too many to say an ultimate "best"
craziest…sunshine
funniest…tyler and sunshine
outgoingest…me, sunshine, and danie
loudest…me
shyest…none of us
smartest…becca, danie, or sunshine
blondest…kalee
blondest at heart…dana



… Random …
Do you like to read…sometimes
Whats your middle name…NOT TELLING!
Whats your favorite Movie…Dirty Dancing Cursive OR Print…print
Favorite Restaurant…lots
Are you in Love…most definately Do you like New Found Glory…i dunno
Funny OR Sarcastic…both
Pepsi OR Coke…pepsi
McDonalds OR Burger King…thats a tough one, but burger king
January 21 2006
ok.... so this is new to me.... not a lot to say... wow amazing isnt it? i normally have a lot to say...lol....
well i'm outa here
luv ya'll