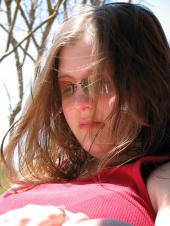 Relationship Status
Married
God is malicious?
October 21 2006
So Graham posted this on his facebook:
Sovereignty
by Graham Wells (notes)
12:22am Thursday, Sep 21
I think that when it comes to God, we like to forget that sovereignty means absolute authority and control.
I think that is an uncomfortable thought. Not only does that mean that
God DOES let bad things happen (they COULDNT happen, in fact, without
His allowing them to), it really does make a lot of other issues a lot
weirder, especially the question of the doctrine of election, better
known as predestination.
In a discussion on predestination, a question occurred to me. If
election isnt true, if God doesnt already know precisely who will or
wont be saved (which, Him knowing that means that it MUST happen, which
could be seen as choosing), if that isnt in His hands, then God is NOT
all-powerful and NOT all-knowing. We know that God is both of those
things, right? I'm not saying that I'm absolutely right, but the logic
is painfully and irritatingly obvious.
So what about free will? Simple answer is that I dont know. According
to Psalms, every step of our life was written out by God before our
birth. That means He knows every sin, every joy, every mistake, every
single thing that we will do before we even think a coherent thought.
Once He knows something, that is the way it is. There are no "what if"
games with what God knows, no room for Him "knowing where each of our
choices could lead." To be all-knowing, He MUST know every answer
already. By Him knowing it, it MUST happen that way. That means that
though we have free will, we have no choice at all and we dont even
realize it.
As frustrating and ego bruising as that is, I find that I dont really
care that much. More than He cares for us, Yhwh desires His own glory.
If it is in His plan that He is glorified by my one path, then so be it.
Darned peculiar thought process. I'm reasonably certain I intended to
be in bed almost an hour ago. I dunno. I'm open to other thoughts or
people punching holes in mine. :-)
I responded with:
Karissa Krapf
wrote
at 11:26pm on October 20th, 2006
The
problem is the Bible says different things about god...so no one really
knows what this supposed god is like...which is why i think hes most
likely made up...and if a god does exist we dont know shit about him-
obviously. Also, if he knows everything and is all powerful, that means
he made us sin...so he damned some of us to hell on purpose because he
put the tree there and knew what we would do if he did...messed up
stuff. but i take great comfort in knowing it probably isnt real.
Graham responded:
From:
Graham Wells
To:
Karissa Krapf
Subject:
Well . . . you're right on something.
Message:
"What if God,
choosing to show His wrath and make His power known, bore with great
patience the objects of wrath - prepared for destruction?" Romans 9:22
So
yeah, I think that does state that some people are created that are
destined for destruction in the long run. It's not pretty, but a lot of
things arent. *shrug*
Is this what every Christian believes? I have definite problems with this and I would hope that others do as well. God cannot possibly be what Graham states and be loving/all good. It would basically go like this: God says, "Okay, I'm going to make some people. I am going to make a place called hell (or it already existed) and make some of the people burn in it. I will torture them forever. I will give them the illusion of choice between me and hell, but ultimately a lot of them will burn for all eternity because I say so." Now seriously people, that is far from good. And that is not love. That is like me saying that I will have children and give one all of my love, care, attention, and help them their whole life, and the others I will throw out on the street or keep in a closet with little food and water and beat occasionally. Tell me how that is NOT the same thing. And on top of that, God supposedly expects his Christians to be good, loving, and "turn the other cheek"=peaceful. Hypocrisy? Basically, the concept of god being concerned about his authority and his glory and thus electing some people to be with him cannot be reconciled with god being love and goodness. Tell me how it can be. It can't. And I can't believe anyone would want to worship a God like that.
Opinions please.