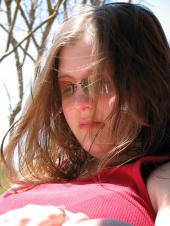 Relationship Status
Married
God is Pro-Abortion
October 16 2006
...according to the Bible anyway....check it out:
1 Samuel 15:1-3 (NIV) - "Samuel said to Saul, "I am
the one the LORD sent to anoint you king over his people Israel; so
listen now to the message from the LORD.
This is what the LORD Almighty says: 'I will punish the Amalekites for
what they did to Israel when they waylaid them as they came up from
Egypt. Now go, attack the Amalekites and totally destroy everything that belongs to them. Do not spare them; put to death men
and women, children and infants, cattle and sheep, camels and donkeys.'
""
Isaiah 13
:13-16 (NIV) -
"Therefore I will make the heavens tremble;
and the earth will shake from its place
at the wrath of the LORD Almighty,
in the day of his burning anger.
14 Like a hunted gazelle,
like sheep without a shepherd,
each will return to his own people,
each will flee to his native land.
15 Whoever is captured will be thrust through;
all who are caught will fall by the sword.
16 Their infants will be dashed to pieces before their eyes;
their houses will be looted and their wives ravished."
Isaiah 13:18

(NIV)

- 18

Their bows will strike down the young men;

nor will they look with compassion on children.

They will have no mercy on infants.
Hosea 13:16 (New Living Translation) - "The people of Samaria must bear
the consequences of their guilt because they rebelled against their God. They will be killed by an invading army, their little ones dashed to death against the ground, their pregnant women ripped open by swords."
Hosea 13:16 (King James) "Samaria will bear her guilt because she has rebelled against her God.
They will fall by the sword; their little ones will be dashed to pieces, and their pregnant women ripped open."