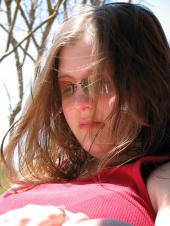 Relationship Status
Married
Short and Sweet
August 11 2006
At some point I might post my hugely long and horrid birth experience, but for now I will just say that the baby is here!
Currie Alden Dail V (Alden) was born July 19th at 1 in the morning after around 24 hours of labor with 3 hours of pushing. He was 9 lbs. 3 oz. and 21 inches! He is doing pretty well, though I think he might be getting colicky. That would be par for the course. I was in the hospital a week total and am still slowly recovering. I am starting to feel like visitors if anyone wants to stop by. Mostly, Joey and I are just glad that he is here and trying to adapt to parenthood! I think we like it, at least most of the time. I might upload some pictures soon, but the really good ones that Joey's dad took are not available yet. They are the ones I really want to show.
Anyway, that's that.