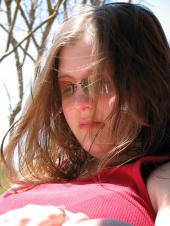 Relationship Status
Married
For All You Starbucks Lovers Out There...
May 11 2006
PROTEST STARBUCKS: Frankenbucks National Week of Action June 19th-25th


Despite years of grassroots pressure, Starbucks continues to serve milk
from cows that are injected with Monsanto's controversial genetically
engineered recombinant bovine growth hormone, also known as rBGH or
rBST. Virtually every industrial country, except for the United States,
has banned the use of rBGH. Milk produced from cows injected with rBGH
poses serious hazards to human health, including increased risks for
cancer. The time has come to kick rBGH off the market, once and for
all. If Starbucks, a major buyer of milk, were to ban rBGH dairy
products in its coffee beverages other major corporations would likely
do the same.


More information can be found at:
OCA Website
Local Alternatives: Espresso Joe's on Memorial, Espresso Shelf on Vine Street (near the library). There are both smoke free. I think the Clay Cup might be as well. Supporting your local businesses also keeps the money in the community to make Murfreesboro better!!
Genetic Engineering = bad news. Read some things about it. It might be a good idea except for the way they are going about it. Actually, here's just a preview:
"Over 1600 sheep apparently died this month in
India after ingesting genetically engineered (GE) cotton. The massive
deaths occurred after several days of grazing in fields where
Monsanto's Bt and herbicide resistant spliced varieties of cotton were
planted. Scientists from India's Centre for Sustainable Agriculture are
calling on the government to launch a study into the impacts of GE
cotton toxins."


Learn More
Try to be an informed consumer. I'm trying. It's a little hard, but not too much work- well worth it, I think.