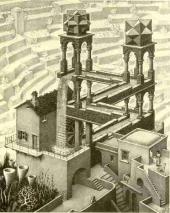 Relationship Status
In A Relationship
Happy times...
November 29 2005
I can see God in everything I do right now. A while back, I left my worries in the dust and focused on the present instead of worrying about the future. This little change has helped me greatly! It's so cool to see God's plan for you working as you live your life. Let me just say that these are happy times...and He has blessed me.
Speaking of happy...IT"S ALMOST CHRISTMAS!! WOOT!! I don't really want much, though. Oh well, I like to give more than recieve anyway (as hard as that is to believe!).
Now on to the poopy stuff. Chemistry is stupid right now. I have a really time-consuming project that I have to do. It sucks.
But I'll end happily! Peace and Love!
Love in Him,
~Rhett
November 29 2005
sounds awesome man. It's good to hear you're trusting in God and everything is working out great. There's not alot of people that can really say that. Well i'll see u at school man ~ Garrett