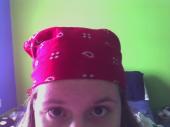 Relationship Status
Single
dress shopping, round two. *bell dings*
January 16 2007
I actually got in a few hits today.
The Perfect Dress = craptastic, just like last year.
JC Penny = actually had dresses. Dresses that fit me. Too bad they didn't work out.
Dillard's = random not-ugly dress thrown in with old lady dresses. Marked down to $83. Okay prom find, not really Mil Ball material. Was a little tight. Although it made me sad, I let it go.
So, a few punches, but no wins thus far. David's Bridal is either tomorrow or Thursday.
So far, dress #1 from Vivid is at the forefront... We'll see how it goes.
ps - Big ol' thanks to Rachel and Mady for shopping with me on Monday. And an extra big ol' thanks to Jennifer for shopping with me today!
January 17 2007
Sry its taking so long for you to find a dress. I hope you have better luck the rest of the week. Luv ya