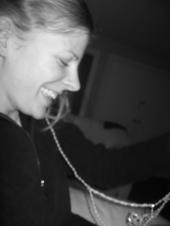 Relationship Status
Single
In a Mood!!!
January 10 2006
My Princess....
Let Go Of Guilt,
All have sinned and fallen short of My glory, so why won't you forgive yourself when you fall? Don't you know that I will pick you up when you call out to Me and repent? There is no wrng that can keep Me, your King, from redeeming you back to your royal life again. Read My Word, My love; many of My chosen ones made mistakes, just as I gave each of them a new start, so will I do the same for you. now, let go of guilt, and trust Me to work out what went wrong. Just watch Me make you into the person I called you to be. I am the God of second chances, and My mercy endures forever!
Love,
Your King who removes your Guilt

soo i have been in a horrible mood lately!!! if anyone hasnt noticed i have! and if i have hurt you in anyway im sorry!
so as some of you know im not dating for a while i have 4 months left....im thinking of making it longer! i dunno...some new things are coming up that im learning and some of the old things in the last are coming back and i just have a ton of things to learn! i dunno....please keep me in your prayers!
school starts back next week! im looking forward to it! something new to do! lol!!!

well im gonna go get ready for my gurlz night!!! bye love yall!!

Love Through Christ!!
~Rachel~