Relationship Status
Single
arrgh
June 04 2005
and here i am...wasting time (seems to be the story of my life)
i feel kind of sick of myself...anyone ever feel like that? i wonder how God could continue in his love for me. the thing is, he never stops and there is nothing i can do to make him. i was spending time with him today, reading "my utmost for his highest" which i've recently begun...well anyway, check it out:
"We have the idea that God is going to do some exceptional thing--that He is preparing and equipping us for some extraordinary work in the future. But as we grow in His grace we find that God is glorifying Himself here and now, at this very moment. If we have God's assurance behind us, the most amazing strength becomes ours and we learn to sing, glorifying Him even in the ordinary days and ways of life."
i find that quite amazing...my life is wrapped up in his purpose...glorifying himself. i keep looking forward to next week, or tomorrow, or whenever, but God is right here with me now! i don't know, a lot of thoughts...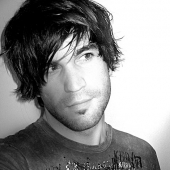 June 04 2005
JODY! Welcome to the site! Great post! Let me know if you run into any bugs.