Relationship Status
Married
Church Growth: Good or Bad??
May 04 2006
In this post, I want to look at an issue that I have personally been reflecting on lately, the issue of church growth. In today's churches, we have "church growth movements" seminary departments titled, "department of church growth" and pastors and lay leaders alike obsessed with the idea of church growth. Just from making observations, it seems that there are two extremes here.
In one camp--the bigger the better. If your church is growing, then you must be doing something right. In this camp resides most of America's mega-churches and their high-profile pastors. Some of these guys believe that because of their positive self-improvement message, their nice, well lit auditoriums, and their refusal to offend anyone with the truth of sin and their personal responsibility to it, that God must be blessing them because they have droves of people coming every week.
In the other camp--resides the over-zealous "fundy" KJV Bible beating pastors with their churches smaller than some Mormon families. They boast that they have the most doctrinally pure congregations and that they have the "most faithful church" not the "largest church." Don't get me wrong, there are actually quite large churches in this camp, but this is due in part to their strong political affiliations and attraction of right wing affiliates. You don't see too many of these churches in some of the more "liberal" parts of the country; here, they exist as tiny congregations escaping the evils of the world and those in it.
My prayer for America's church is the emergence of a third camp, which I have seen demonstrated by several churches I have recently studied. I believe a church can explode in numerical growth for all the right or all the wrong reasons. While I do believe that God expects not only faithfulness, but fruitfulness--this "fruitfulness" is not always measured in terms of numerical growth. Let me explain. God's utmost concern is not church growth. Rather, His utmost agenda is His glory among all nations, peoples, tribes, and tongues. Therefore, we need to ask the question, "how can I personally and how can my church meet this concern--to spread the supremacy of God to all nations for the joy of all peoples?" Sometimes that is church growth; other times its not. In David Garrison's
Church Planting Movements,
he explores the explosion of the church, primarily in India and East Asia. Among churches caught in the movement, the prayer is not, "Lord grow our church"; rather, it's "Lord, multiply our church". And He does!!!
Jesus says these words in John 12, "I tell you the truth, unless a kernel of wheat falls to the ground and dies, it remains only a single seed. But if it dies, it produces many seeds." Jesus was obviously talking about the gospel here; He was about to die, and the only way we could live is if He dies. However, as His followers this applies to us personally and as a church. If we want to be used by God in a missional lifestyle, we have to die to ourselves! We have no choice. As a church, we have to put aside our personal agendas as Christian leaders, aspiring pastors, or lay leaders. In many cases, the "dying" that needs to take place is the longing to have a huge church and be famous. My prayer for America is that we would see an explosion of new churches much like other places in the world, that Christian leaders (me included) would die to the desire to become famous, and that God would use our generation to redeem millions and billions of people.
For further reading (these books have shaped my personal view on missions and the church):
Church Planting Movements,
by David Garrison
Radical Reformission,
by Mark Driscoll
Let the Nations Be Glad,
by John Piper
Planting Missional Churches,
by Ed Stetzer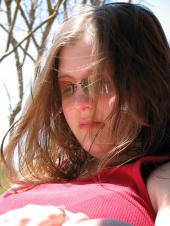 May 04 2006
Also, read "A New Kind of Christian" by Brian McClaren. Excellent and refreshing point of view in that book.
May 04 2006
Good thoughts... What churches have you studied that you feel occupy your "third camp?"
May 08 2006
Lane, I don't that many churches have truly caught a church planting vision entirely. I do think that Sovereign Grace with C.J. Mahaney and Josh Harris have it because their entire missional strategy is tied to church planting. To clarify, I definitely do not think large growing churches are bad at all, but for the right reasons. And large churches must continue to grow smaller as they grow larger through small groups, etc. I think any church that is able to separate and hold doctrine and culture: one in each hand--in one hand holding right theology and in the other holding culture relevance...the theology does not change, the methodoligies must change to be effective.