NYC...baby!
August 21 2005
Well... I made it. After the 15 hour drive... Im here.
Everything is cool... my roommate is pretty nice and most of the others I've met are cool.
I put some pics up of my room... It isn't quite as bad as it looks. lol. Caitlyn and I are going to paint it soon... so that will help.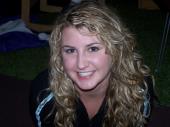 August 22 2005
Emms...I can't believe it has been sooooo long since we have talked!!! I'm feeling neglected! But I still love you.