Dear Fantastic Fabulous Four...
August 11 2005
aka. Kristina.. Leah... Blake...

I love you guys so much! Youre wonderful! I miss you already!
Leah and KP, Im praying for you for tomorrow and this week! Good luck and have fun. I will call you.
Blake... only one more week!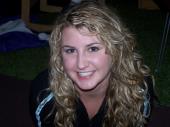 August 12 2005
Well, if you want to come you are certainly welcome. My appt. is on tuesday at 11:00. I'm a little nervous about how it is going to look...but it is just hair.