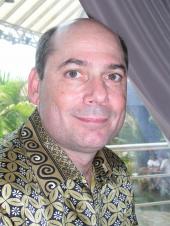 Relationship Status
Married
Time to Go Back to Work
March 19 2007
After a long (4 day) sickly weekend, I am heading back to work. This was, once again, not the way I had planned my weekend. Argh. I finally threw in the towel about taking some medication. Somewhere between getting the tux worked on (and finding out my measurements are changing (ergo shrinking) ... and just getting sick of being sick. Anyway, I'm on antibiotics.
Have a hectic week coming and next week is "spring break" here ... I was hoping to take off most of the week, but will only be able to take Thursday and Friday off.
I'm tired of paying $1.25 a minute for calls to my family. So, I am going to try Yahoo Voice, a VOIP calling system. I have most things set up and think everything is ready to go ... but STUPID Yahoo ... sent a "small" (<$1) charge to my credit card as a test ... I have to confirm the amount before the account is activated. Frustrating part is that Yahoo has used that credit card before ... including just a week ago ... so here I sit for days and days waiting for the posting of the charge ... so I can "confirm" the amount and activate Yahoo Voice.
Once activated, the calls are free pc-to-pc and about $0.01 to $0.02 per minute into the US pc-to-phone. Hopefully the quality is ok - this is Indonesia and the infrastructure isn't always that good ... many folks cannot use Vonage nor Skype .... so I'm trying this.
That's all ... gotta run.
ciao ciao
March 20 2007
I got your email about it and will try to get it installed when I get home. Shouldn't be too hard to get my end set up.... hopefully.