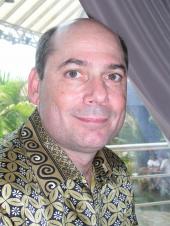 Relationship Status
Married
Special Event
March 14 2007
TGIT ... I am very thankful it is Thursday. I am going to take Friday off and Monday is a holiday. I am looking forward to the 4-day weekend. Hopefully I can enjoy it more than the last one. I think (moment of hesitation) I may finally be at the end of my stomach issues .... just in the last day or two (won't know for sure for a few more days). Unfortunately, however, this issue took so much of my energy and stamina to fight I am now fighting off a cold. Ugh !!
As for the special event .... Club 30 (Tiga Puluh) is having "emergency room" tonight. Not sure what all they are planning ... but Decy and I are going tonight dressed as a Doctor and Nurse. he he he.
Chely's working on her SAT preps ... and not getting to have too much fun ... although she did get to spend some time last weekend with a girl friend. This Saturday there is a College Fair where a bunch of US colleges will be hosting a "get acquainted event". We will go to that.
Thasya is recovering from all her band and play activities.
Our "spring break" is the week of 26-30 March. I'll take some days off (probably 29 & 30) but we won't go very far. There have been a lot of accidents lately (planes, trains, and ferries) so ... there is a bit of nervousness around.
Oh - I go to the 2nd fitting on my tux today or tomorrow.
... going to log off now ... need to try to do some more work on sitesbygeeks.com
ciao ciao