Relationship Status
Single
Ever get that feeling???
October 23 2006
Have you ever gotten that feeling that no matter what you do things will not turn out the way you want them to???.....just wondering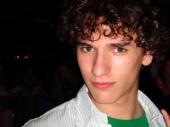 October 24 2006
Nope because Romans 8:28 says: "And we know that all things work together for good to those who love God, to those who are the called according to His purpose."

October 24 2006
I know the verse, and i don't doubt the word of God, but yet sometimes I do.