Relationship Status
Married
Going to Atlanta
September 12 2006
Soon I am going to Atlanta. While there, I will attend the anime convention, and probably fall off the diet wagon. I've lost a little over 10 pounds on Weight Watchers so far, but i need to lose another 20 (at least) before I stop.
Also, for any Depeche Mode fans, please go Opry Mills on Sept 25 and see the movie of the latest tour- it's only playing for ONE NIGHT! I'll be there in my Martin hat.
Lastly, Bethany's wedding was beautiful. She was pretty- everyone was pretty, but she really looked great, and happy. :) We couldn't make it to the reception unfortunately, but the ceremony was great!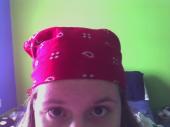 September 12 2006
Duuuuuuuude... I might have to go to that. I would never have known if you hadn't said anything.