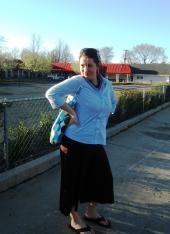 Relationship Status
Single
REALLY bad day.
November 09 2005
this morning was the worst morning ever!
1. i was walking across tn blvd and my backpack broke and fell in the middle of the street. i had to run back and grab it really quick bf it got ran over. scared me to death!
2. when i got to the other side i noticed i was bleeding really bad. apparently when i was running back and forth i broke the blister the was trying to heal from a shoe i had worn last week. so my pants and shoe had all this blood on it. (i know what your thinking. you think its sick and so do i.)
3. i had to limp to the cope building to go to the office where i work so i could get a bandaid. well apparently i somehow broke the ear piece of my ipod earphones. the wire was exposed and the whole thing just flew off! let's keep in mind that i just bought those this weekend.
oh Lord I am FREE in you. Oh Lord I am COMPLETE in you.....I WILL OVERCOME!

i had prayed earlier this morning that i would have a great day and i just had a great time talking to God this morning so i know that it was Satan trying to ruin my day.
but i know that it could be a lot worse. and i still think that God is the GREATEST!