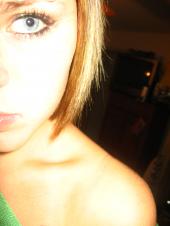 Relationship Status
In A Relationship
baby the clock on the wall is lyin;; it's not really that late.
July 18 2006

Have you ever had the feeling,
where your heart skips a beat.

&& you relize how happy you feel.

&& you're scared that it'll end.

but your just happy you feel so great.

where everything is so wonderful.

i'm overcome with joy,

just out of nowhere.

happier than i've been

and the relization of my life right now,

is becoming clearer

&& I see how truely blessed I am.
..butterflies perhaps?

&& after last time;;
i told myself i wouldn't fall again.
then i saw him smile,
&& I broke the promise to myself.