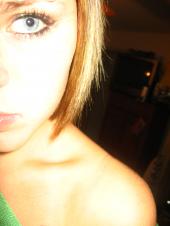 Relationship Status
In A Relationship
I'm hard to remember, but I'm impossible to forget.
April 04 2006

I feel ultimately; completely...

sometimes i wish i could just say...

other times if i did....and i would be sad.

Then i realize...and everything is ok.


ahh that was interesting.

i'm addicted to

tab

energy drink/hair products/

eyeliner



welcome to the world of Sarah


I have the most complex mind imaginable.

I speak what i feel && I remember

almost everything that made me sad; or

upset at myself

.

I have to write my feelings out;

otherwise i'll blow up...and probably get angry.

I have a low attention spand.


i want to talk on the phone for hours about everything.

I wanna be someones everything.

I have no hope. because i'm obease

except i'm

not really

obease; i'm just weird.

I don't lie; other than the fact I say things,

then immediately tell people that's a lie.

it's true; I really don't know what's wrong with me.


Sometimes I think it's hard to tell my feelings,

and when i try;i hold it in.

i have my own dirty little secrets.

although no one knows them really.

Maybe a few people.


oh well..i'll amount to something.