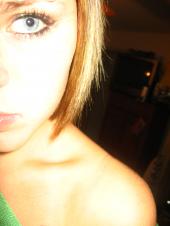 Relationship Status
In A Relationship
I wanna love somebody like you♥
December 01 2005
Laughter is medicine.
Aye me,I laughed so hard today.
In choir I drew a picture.
What of you ask?
Mrs. Gregory.
It was so like her,
roots and all.
I think I had about half the class laughing.
It's hard to sing in French that way.
I'm going to see Keith Urban
Twice in a week.
Not till Valentines day though.
Oiy, I'm uber excited!!
So I was thinkin'[here she goes again]
Why do people lie so much.
I mean, come on,
Why hide something for years,
that in the end isn't a big deal?
I hate when people do that.
haha. random.
So..I just walked outside,
got on my bike,
rode down my drive way,
around the ct.
and then decided it was too cold,
and came back in,
I hate days like this.
Cold.
My family is aggrivating me.
So call me and come get me,
save me from them..hah
♥
Let's Cuddle
♥
December 01 2005
nah, the world isnt small...just running out of days for original birthdays...i'm gonna have to go ahead and um...disagree with you on that. I like the cold weather...it calls for hats, scarfs, and jackets...and the warmth of another
December 03 2005
ummm your name does sound familiar. i dunno know tho' what's schools did you go to ? and were you ever in girlscouts?