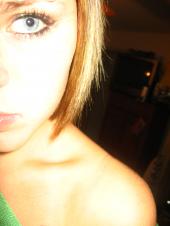 Relationship Status
In A Relationship
Maybe the absence of signs is a sign
November 20 2005
a fortunate accident. [Serendipity]♥
Me mum bought me
The Phantom of the Opera,
House of Wax, && Frank Sinatra's greatest hits.
All are simply exquiset.
I am singing in front of 30 some odd people tomorrow.
I'll probably pass out.
ahh well.
I'm no in love with the movie [Serendipity]
It's such a great movie.
Very interesting for the wandering mind.
I want to be a cosmotologist.
or a stylist for the stars.
[movie stars that is]
Aye me...if you need a stylist,
hire me..haha.
I can read...really.
haha I love reflecting on the past,
just the good things.
aye me...wanna se wayyyyyy back in June...
yeah...Diva...lol
o well...
I guess i'm gonna go.
I need something to do
this coming weekend,
anyone wanna make plans?
i need to see
-Harry Potter
-Just friends
-Rent
so yeah, make plans make plans:-)