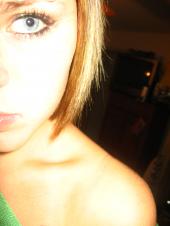 Relationship Status
In A Relationship
I want you to want me...i need you too need me...i love you to love me...♥
November 03 2005

confusion makes me angry.
I loathe alot of stuff.
Life's been kinda crazy.
I'm sick of stress and
not "getting it"
and i'm sick of the fact that I got to the most highly
equipt highschool in the county, possibly the state, and
we have teachers who don't know what they're teaching.
I pity the fool who hired them.
[pardon my pun on words]
So this weekend [minus tomorrow]
I have nothing to do.
But I do have free minutes for you
to call me and tell me we are hanging out.
yep. haha. I feel like singing in front of alot of people,
or putting on a performance,
I wanna go to walmart or the mall and just
make people look at me like "WTF"
I want to get in a verbal argumentation with someone,
and win. haha. random yes, but me none the less.
I have a tendency to notice peoples shoes.
and then there's the fact I can make someone smile,
REALLLLLLLLLLL BIG! It's cute.
Well, i'm gonna go buy a ringtone [woow]
oh and i'm gonna eat wicked awesome pizza.
I know your jealous.
-Sarah<3
10 Firsts:

First Best Friend: Berger Bear

First Screen Name: Babyblues409

First Pet: shawna

First Piercing: ears

First Crush: Kolby in 2nd grade

First Music: Metallica

First Car: n/a

First School: MNP

First House Location: murfreesboro, tn


9 Lasts:

Last time you smoked: 2months ago

Last thing you ate: pizza

Last Car Ride: from school

Last Movie: Fox and the hound

Last Phone Call: Lareisa when i got out of school

Last CD Played: Nat King Cole's greatest hits

Last bubble bath: like 5months ago




8 Have You Evers:

Have You Ever Dated One Of Your Best Friends:yes

Have You Ever Been Arrested: Nope

Have You Ever Skinny Dipped:yah

Have You Ever Been on TV: yah

Have You Ever Kissed Someone and Then Regretted it: yep

Have you Ever cheated:on homework

Have You Ever been on a blind date: kind of

Have You Ever been out of the country:nope


7 Things You're Wearing:

1. ex-boyfriend shirt

2. jogging pants

3. bra

4. earing

5. earring

6. earring

7. earring

6 Things You've Done Today:

1. eat

2. talk

3. myspace

4. school

5.sing

6. do homework... oh wait i haven't done that yet


5 favorite things In No Particular Order:

1.eyes

2. music

3.hugs

4.gum

5. my new candle


4 People You Can Tell Anything to:

1. berger

2. kayla

3. amber

4. bobby


3 Choices

1. chocolate or vanilla: vanilla

2. hugs or kisses:depends

3. pens or pencils: pencils.


2 Things You Want to Do Before you die:

1. Have a family

2. Sing infront of alot of people


1 person you wanna see: ...
Is it me or do my eyes look white.