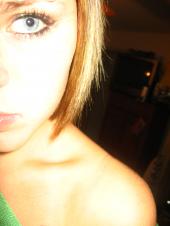 Relationship Status
In A Relationship
Where is your boy tonight I hope he is a gentleman♥
October 25 2005
I'm hanging out with my Chelsey Bear tomorrow.
Friday I am leaving early, because I have those skills.
Saturday I"m going to Kayla's Grandparents,
and then Sunday battle of the bands.
Monday is Halloween!!
Can't wait.
It's possibly my favorite holiday.
Life is swell as of right now.
I still have a few people who hate me,
but I guess yah have to deal with that sometimes,
especially with those silly girls.
I'm apperently a studd muffin here lately,
Don't know where that came from,
but hey, i'll take it.
Orthodontist tomorrow,
and as stated above,
I get to see my Chelsey!
Fun stuff.
I'm never gonna get a full week of school in.
I have had a half day/field trip/school function
every week minus the first week of school.
So yeah, that's pretty sweet.
I'm going to disneyworld sometime soon,
and then hopefully Cali when we get
our tickets, we can fly anywhere,
so that's pretty sweet.
Okay enough of the random.
Keep it Greazy
Fo' Sheezie.
What do you do when your printer decides
that it doesn't want to work when you have
to print out the speech you've been working on
for 3hours. ahh, technology.
I'm that talented.
[i know you're jealous]