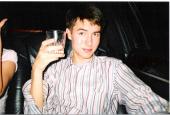 Relationship Status
Single
Heya
May 25 2006
I dont think my comp likes Phusebox...AOL has clicked off five times. Eh, oh well.
Yes, I am here again. Surprise. I may update. I may not. Don't count on it. Anyways, I'm totally bored because I am far too cool to go to camp. Honestly. Expect new pictures that you've all seen before. Anyways, I'll talk to ya in a year or two. If your lucky.
Oh yeah, way to go Pearcy on your flippen sweet laptop.
--Dan the Dan-Man Daniel