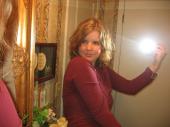 Relationship Status
Single
A REAL MAN
November 13 2005
HOW CAN A WOMAN NOT LOVE THE LORD?
*He is a gentleman

*He is confident
*He is a provider and
protector
*He is rich and powerful
*He owns everything
*There is nothing He wouldn't do for me
*He perfects all things concerning me
*He anticipates my wants and needs
*Every day He tells me and shows me how much He loves me
*I don't have to perform in order to earn His love
*He keeps all of his promises
*No one can influence His opinion of me
*He is the ultimate intimate partner
*He can't "disown" me because I am a part of Him

*He prepares a table before me
*He covers me and doesn't expose me
*He wrote His loving words down so
that I'll never forget how He feels about me!
now THAT is a REAL MAN
November 13 2005
i know, right! He is the perfect man! and too bad so many people miss that!