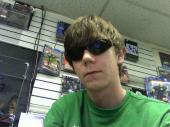 Relationship Status
Single
Voices of the angels.....
February 18 2006
I sat out in the snow this morning. I just let the wondrous white flecks swirl around me and whisper their secrets. It is beautiful. You can hear the voices of angels in the rush of the wind. I think I am losing my grip on reality. And I don't seem to mind. It casting a soft glow on this world that I never saw before. I'm falling in love with little things around me. All hate and anger leaves me when I step back and gaze at everything. If this is what insanity is, then I don't want to be sane. This is just to good to leave.
February 18 2006
I can't wait til you kick my ass..... I'm looking forward to it..... I went to your car friday w a hole bunch of people, but sadly you weren't there....
February 18 2006
well i care.. but what the heck am i supposed to say? "HEY arent you that kid i met on phusebox?!?!?" lol?? meag