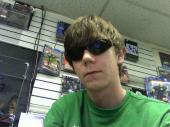 Relationship Status
Single
From Lashes To Ashes An From Lust To Dust
February 04 2006
Well my work week is finally over. I'm completely worn out from it all. I've been going through a range of emotions lately and don't know exactly which ones to trust. I've fallen in love with a girl but have no idea if it is returned. I'm angry at the entire school for bothering me. I'm a little worried about my birthday next week. I'm upset cause I can't get a damn thing done. I guess I'm just going to have to work this out. My birthday is next Thursday for anybody that really cares. I'm gonna be 18 and what a happy day. (Actually the happy day will be Friday cause I get to spend it all night with Jen). I wrote a poem last night at work. It is really a rough draft but I'm gonna put it anyway.
Though we are a world apart,
I want you to know you own my heart,
I never knew what happiness could be,
I can only wish that you love me.
Let's lay in a field and watch the stars go by,
If I'm with you my soul soars through the sky,
Holding you close and not letting go,
I just hope our love has a chance to unfold.
February 04 2006
what a waist of my damn time reading that........ you should've put in there.. "and i owe Donald 20 dollars......."